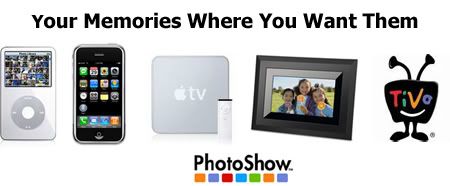 At Simple Star we have always believed that you should be able to enjoy and share your memories however you want. For the last couple years we have let people easily publish PhotoShows to blogs, Facebook, MySpace, Ebay, their personal web sites, etc... now we are taking this one step further!
Last week we launched some cool new video services on PhotoShow.com. You can now easily podcast your favorite PhotoShows to iTunes for synching with iPhones, iPods and Apple TV. We are also allowing you to send PhotoShows out as a video RSS feeds. This can be great for getting your PhotoShows to digital picture frames, connected TVs or to DVRs like Tivo which recently announced that they will support video RSS feeds in March.
We are also enabling PhotoShow.com creators & visitors to download a video file of any PhotoShow. This is great for uploading your personal content to YouTube, importing a PhotoShow into Power Point or a video editing program like iMovie or Movie Maker. You can even easily burn a DVD with this downloaded video file as a quick way to enjoy memories on your TV. For more on these great new PhotoShow video services please visit the PhotoShow News blog.