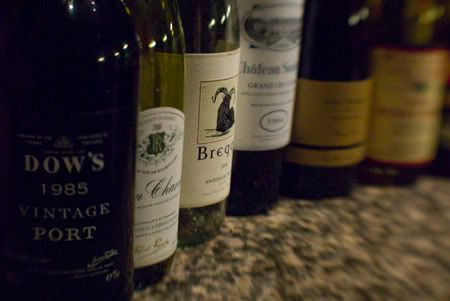 Shawna and I decided we were going to do a "secret restaurant" series this year. Basically we host a fun wine dinner where we have various chefs come in and prepare great meals that we help pair with wines and then people come and pay for their meal as if they were out.
For our first installment we were lucky to have Sonoma Private Chef, Brian Way give us a taste of Sonoma. We paired it mostly with Sonoma Pinot Noirs including the first semi-public tasting of our very own Furthermore 2006 Bohemian Vineyard that I am making with my long time friend Bob. I was nervous having it sit on the same table of some of my very favorite pinots, but it turns out our young Bohemian stood very well for itself.
Brian's menu and wine pairings for this Valentine day themed feast was:
- Oysters Zulu a la Central Market <2005 Macon Charnay White Burgundy>
- Pomegranate Glazed Ahi Tuna over Wild Mushroom Risotto <2006 Furthermore Pinot Noir Bohemian Vineyard & 2005 Williams Seylem Pinot Noir Sonoma Coast>
- BeeDub's Cassoulet Toulouse <Gary Farrell 2005 Star Ridge Pinot Noir & 2005 Macphail Pinot Noir Pratt Vineyard>
- Tricia's Decadent Double Chocolate Tartlette <Dow Vintage Port 1985 & 2005 DEWN Ferraris Ruche Passito from Bonny Doon>
The meal was simply amazing. The duck confit in the cassoulet was an amazing match for the Macphail Pratt, which I tend to find to be a really big and bold pinot. So big in fact that I did decant it for about 2 hours prior to the meal on advice from my friend Xander. The1985 Dow port was absolutely a treat as well. This old man was mellow but had such amazing character. I can see why people rave about 1985 being a killer year for vintage port.